Eyewear
Eyeglasses & Contacts
---
Making a choice in eyewear takes into account so much more than clear vision — it's also a form of self-expression. Whether you decide to get contact lenses, glasses, or sunglasses — or all three — at Acton Eyecare, we'll help you find the perfect eyewear for all your lifestyle and optical needs.
Quality Eyewear in Acton
At Acton Eyecare, we determine and prepare prescriptions for eyeglasses and contact lenses for clear and sharp eyesight. No matter your refractive error, our mission is to provide you with good vision, comfort, and continued eye health.
Designer Frames
Here are just some of the brands we offer: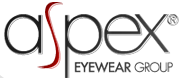 Sunglasses
Whether or not you require vision correction, sunglasses can add an element of comfort and enhanced performance to your activities, while helping you look great. We will walk you through some of our sunglasses options below.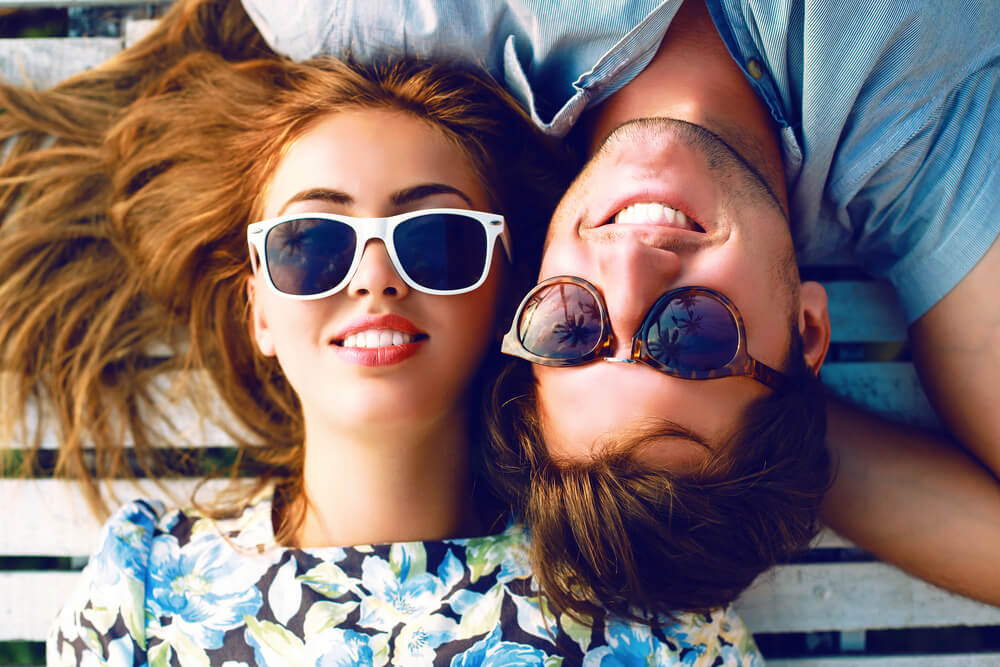 Nonprescription Sunglasses
Everyone should have a good pair of sunglasses. Whether you wear prescription eyeglasses or not, sunglasses are important for everyone. While sunglasses may be considered a must-have fashion accessory, even more importantly, they play a critical role in protecting your eyes from UV (ultraviolet) and other harmful radiation from the sun. They also shield your eyes from wind, dust and debris that could cause discomfort, dryness or damage.
Sunglasses should be worn in the winter as well as the summer and should be 100% UV blocking. This doesn't mean that you have to pay a fortune for your shades. Even cheaper brands of sunglasses are made these days with full UV protection, so take the extra time to ensure you select ones that do offer full protection from the sun's rays.
Prescription Sunglasses
Sunglasses are an important way to protect your eyes and ensure clear and comfortable vision when you are on the go. In addition to causing temporary vision loss, the sun's bright rays can lead to long term eye damage. Ultraviolet radiation from the sun can also cause sunburns on the eyes and over time, can lead to diseases such as macular degeneration.
For those who wear prescription eyeglasses, sun protection is available in a number of options including prescription sunglasses, photochromic lenses or eyeglasses with clip-on sunglass lenses. The best solution depends on your personal preferences, comfort and which option fits in best with your lifestyle.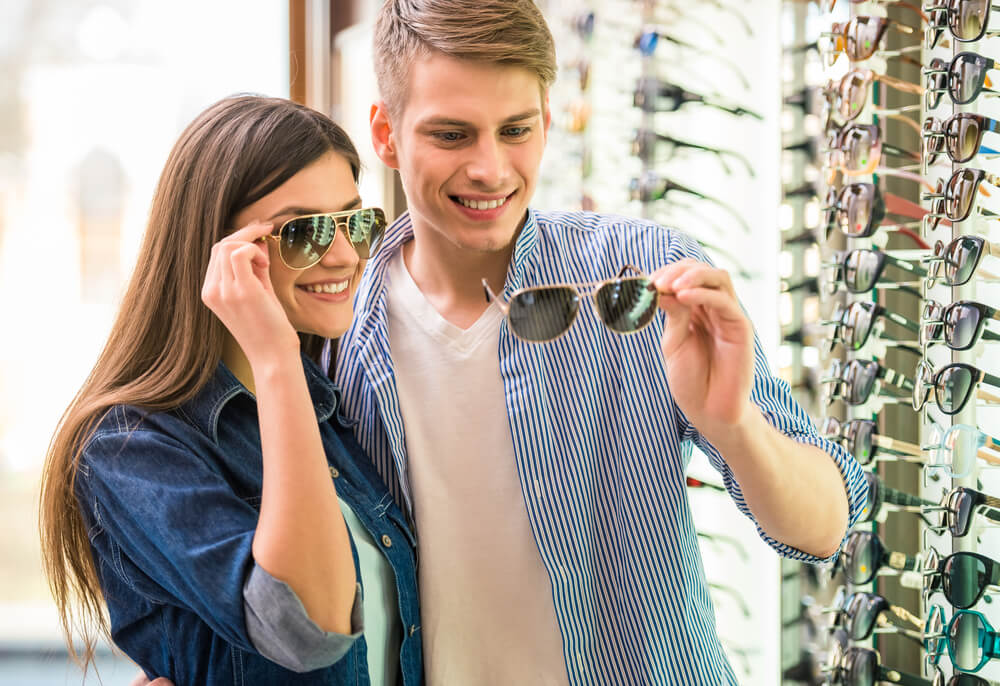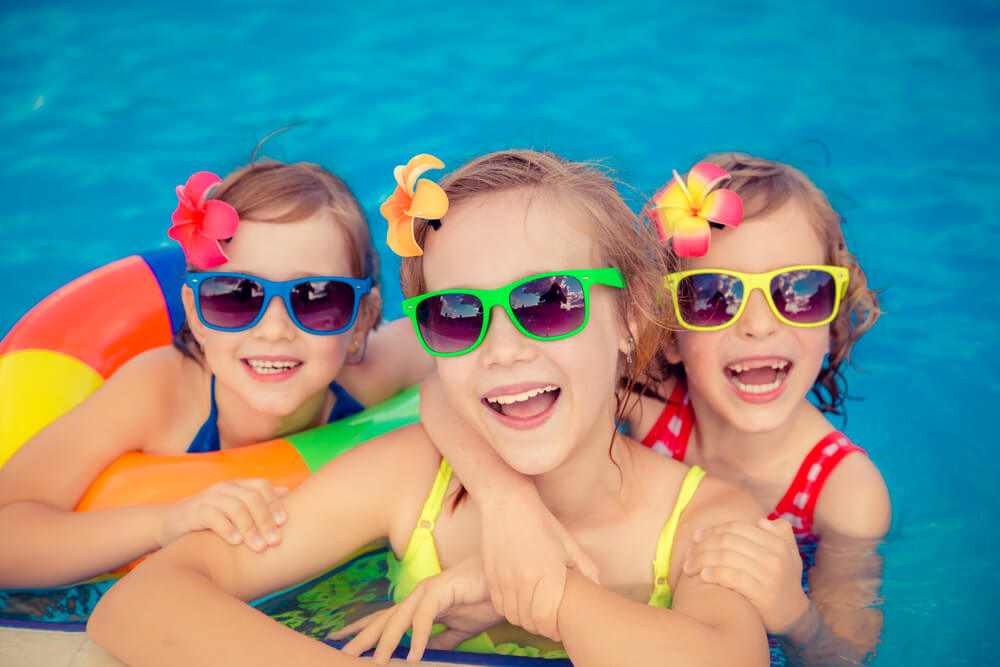 Sunglasses for Kids
Many parents don't know the importance of sunglasses for children and don't stress that they wear them, especially given the hassle involved in encouraging children to wear them and take care of them properly. However, studies show that since we spend so much time outdoors and in the sunshine as children that by the age of 18, our eyes and body have absorbed half of our lifetime ultraviolet radiation (UV) exposure. This makes the use of sunglasses and proper UV protection even more critical for children.
Performance and Sport Sunglasses
Whether you are out on the field, the golf course, the waves or the mountains, you want your sunglasses to protect your eyes from the sun and enhance your visual experience. Sports and performance sunglasses are more than sun protection, they need to be designed for optimal, fit, comfort, acuity and strength, based on the demands of the sport or leisure activity you pursue.
Each element of your sports eyewear needs to be designed for active wear and to stand up to the tests of extreme weather conditions, rough play, impact and of course the sun. If you are fishing for example, you need anti-glare protection in your lenses for when the sun's bright rays reflect off the water, you need a broad frame to keep out the mist and wind and you need strong frames and lenses for impact resistance. Most importantly, depending on your sport of choice, your glasses should assist in creating an enhanced visual experience so you can see and perform at your best.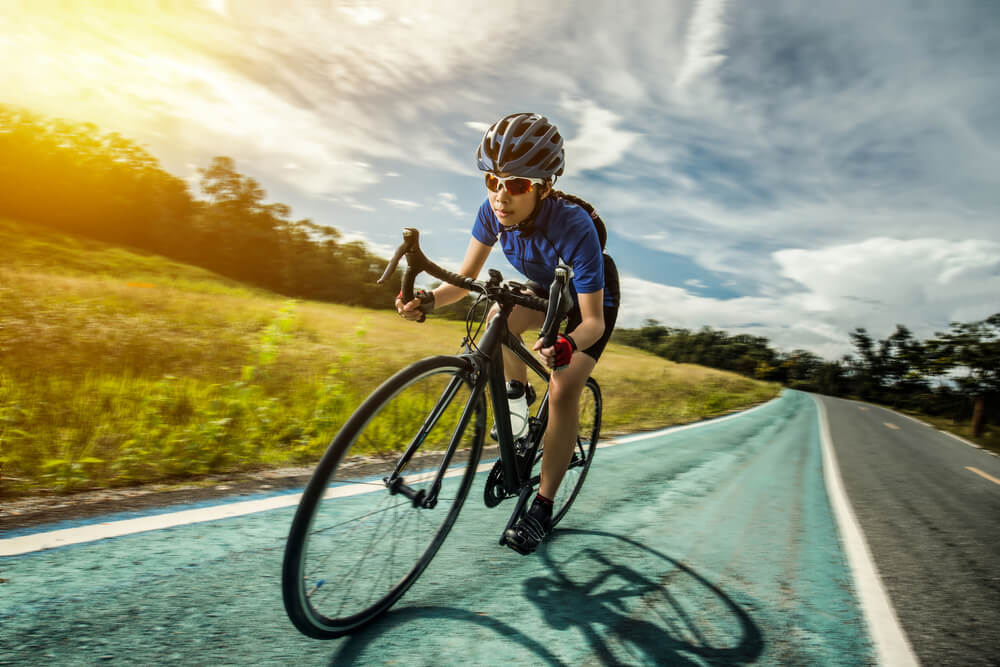 Contact Lenses
We offer a wide selection of contact lenses including disposable soft contact, bifocal/multifocal, toric, and colored lenses.
A good contact lens fit starts with a thorough eye exam to ensure the most up-to-date prescription and rule out any pre-existing conditions that could interfere with contact lens wear.
We will determine the best fitting lens based on your lifestyle needs, the shape and health of your eye. In most cases, you'll have the opportunity to try lenses on the same day as your exam. You can even go home with a few samples before making a final decision.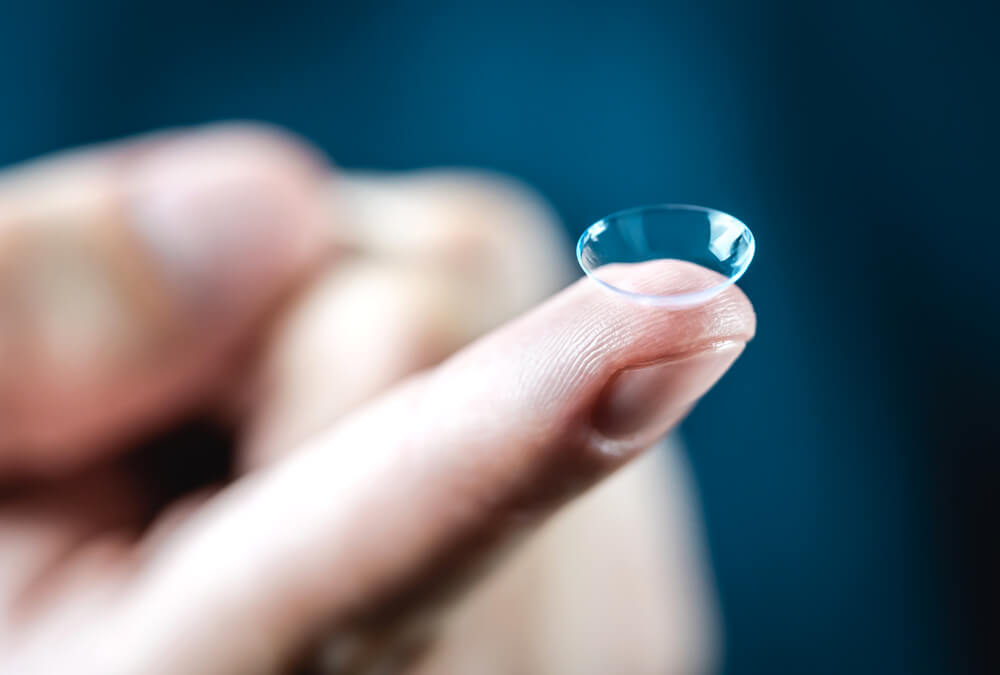 Bifocal and Multifocal Contact Lenses
If you are over 40 and have difficulty seeing close up, such as holding newspapers an arm's length away from your eyes in order to see clearly, reading glasses with bifocal or multifocal (progressive) lenses can help. Fortunately for those who don't like the look, feel or inconvenience of reading glasses, there is another option. Bifocal and multifocal lenses are also available in contact lenses in both soft and Rigid Gas Permeable (RGP) varieties.
Multifocal contact lenses give you added freedom over glasses and they allow you to be able to view any direction – up, down and to the sides – with similar vision. People wearing progressive lenses in glasses on the other hand have to look over their glasses if they want to view upwards or into the distance.
Gas Permeable (GP) Contact Lenses
Gas Permeable (GP) or Rigid Gas Permeable (RGP) contact lenses are an alternative to soft contact lenses that are made from a hard, oxygen permeable material. GP lenses are currently less popular than soft lenses but offer a number of advantages and are continuing to improve as research and technology advance.
GP contacts are made of a firm plastic material which allows the passage of oxygen through the lens to your cornea and the front surface of your eye – essentially allowing your eye to "breathe". This increases comfort, health and safety during contact lens wear.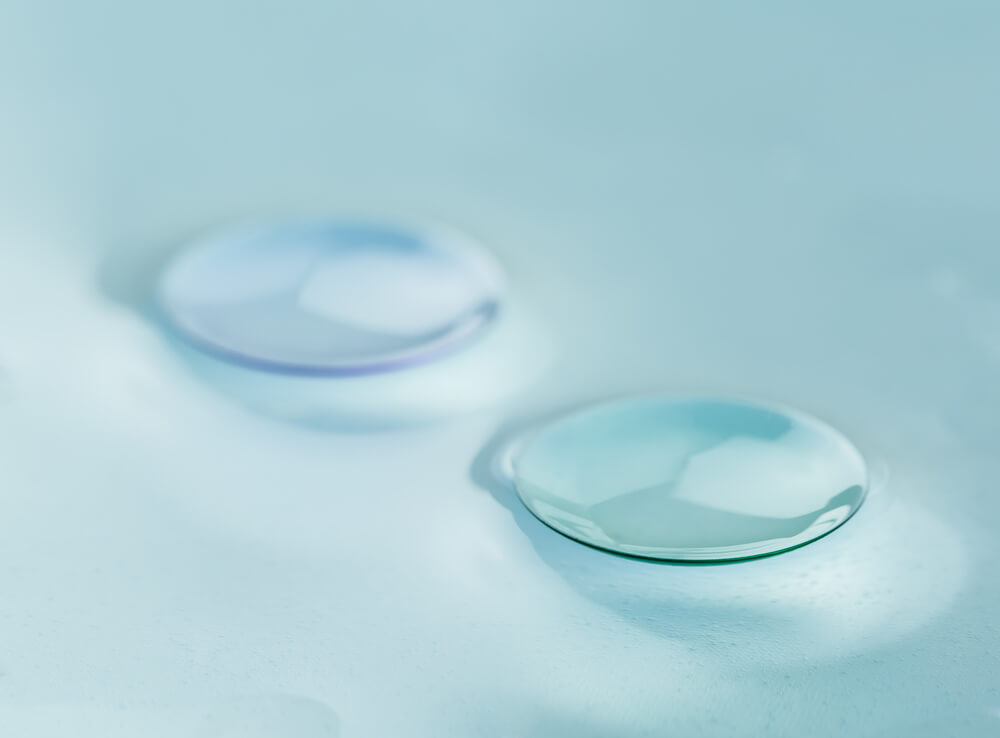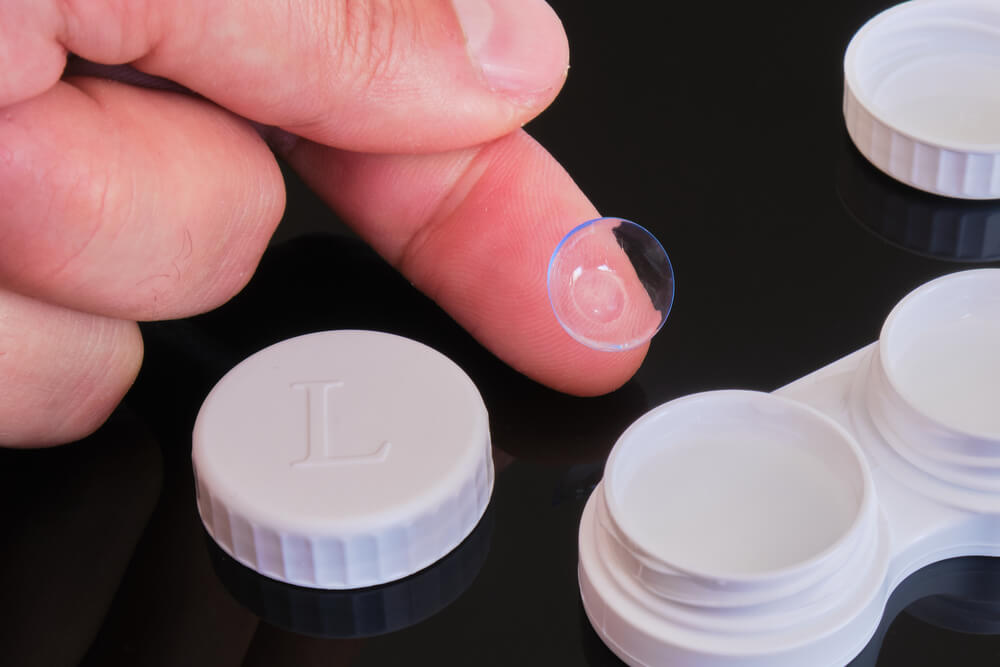 Toric Contact Lenses for Astigmatism
Astigmatism is a condition that is caused by an irregular shape of the cornea – the clear part of the eye that covers the iris and the pupil. The cornea is usually smooth, round, and spherical but in an astigmatic eye, the cornea turns into a shape that is not spherical and develops a second curve. One of the primary duties of the cornea is to focus light onto the retina which enables you to see clearly. When the cornea is out of shape and develops two curves, this created two focal points therefore causing blurred vision.
The irregular shape of the eye makes it hard for traditional contact lenses to fit and provide clear vision and therefore requires specialized contact lenses such as toric lenses or rigid gas permeable lenses (RGPs).
Lens Designs
At Acton Eyecare, we help you find the right lens design to fit your lifestyle. Below you can learn about transitional lenses, advanced progressive lenses, and computer lenses. If you require a lens design not listed below, please contact our team for a custom solution.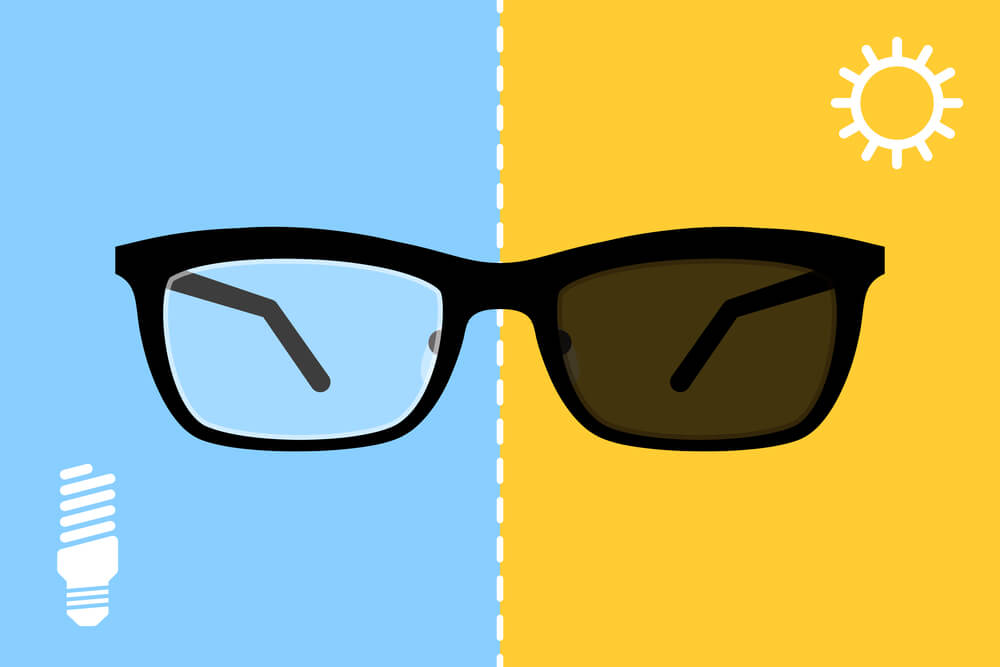 Transitions Lenses
Transitions lenses are photochromic lenses that are clear until dangerous ultraviolet radiation (UV) is present. Once outdoors, the brighter the sun, the darker Transitions lenses become. They turn as dark as sunglasses by automatically reacting to the intensity of UV radiation.
Since Transitions lenses block 100% of the sun's eye-damaging rays and help to reduce painful, discomforting glare, they protect your eyes on cloudy days, sunny days, and everything in between. Transitions lenses are the most convenient way for you to protect your eyes from the light you can see and the light you can't. All while helping to improve the quality of your vision and the long-term health and well-being of your eyes.
Advanced Progressive Lenses (PAL)
Today's wide range of sophisticated Progressive Addition Lenses (PAL) won't reveal your age and will restore your natural vision.
Today's Progressive Lens designs are customized to fit your specific prescription taking into account all the specific parameters of your vision requirements.
New PAL lenses are also built for durability and superior scratch resistance – providing great value.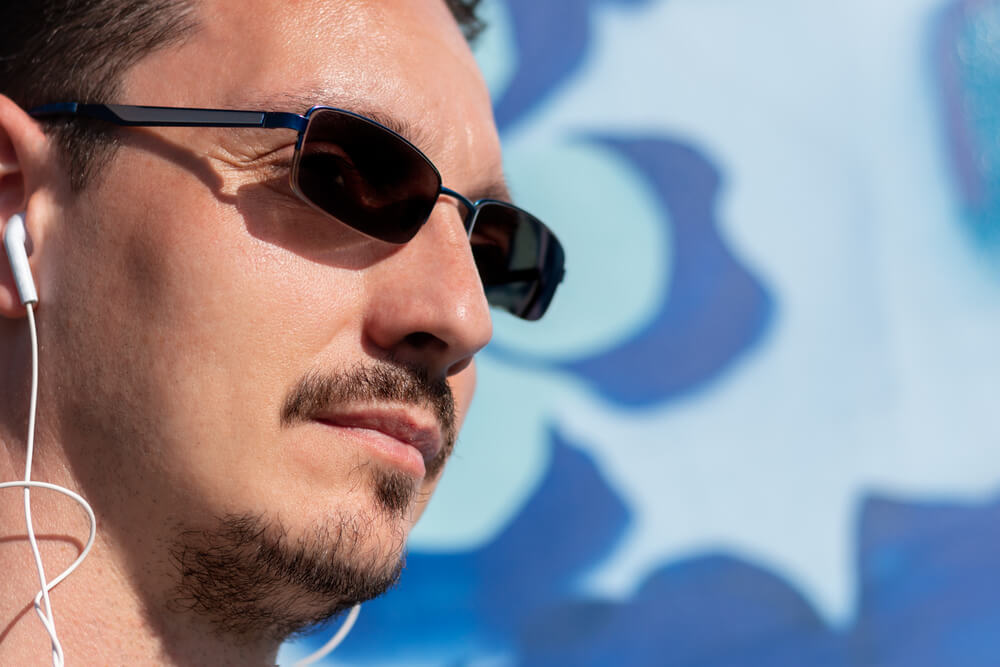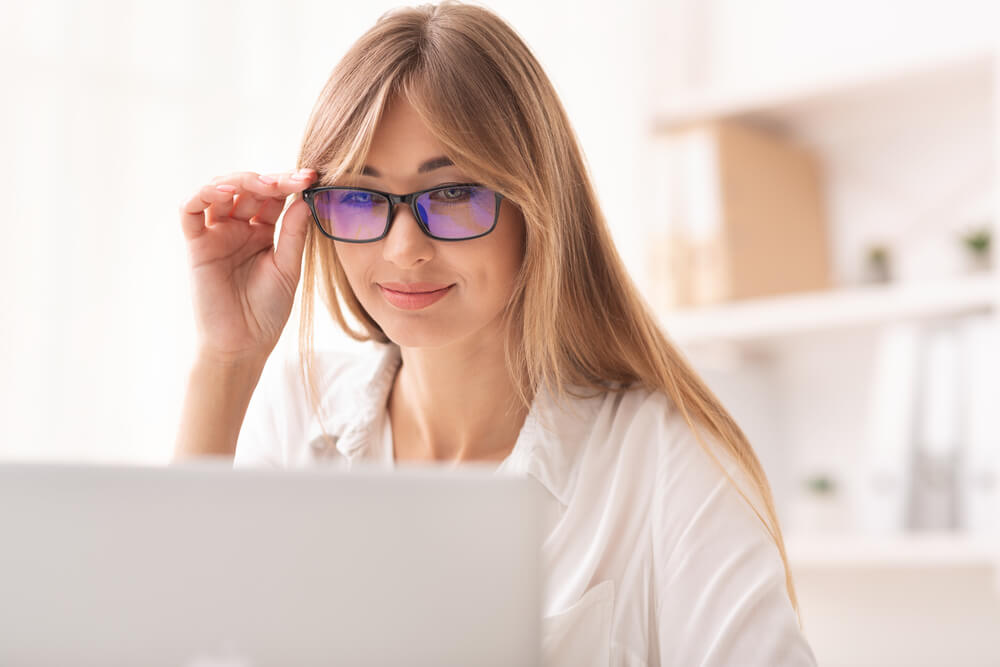 Computer Lenses
There are a number of options for reducing digital eye strain and your exposure to blue light which include workspace ergonomics, computer glasses, specialized lenses and protective coatings. The first step is to get a comprehensive eye exam, making sure you speak to your eye doctor about how often you use a computer and digital device. This will help your doctor to get the full picture of your eye and vision needs in order to determine which option is best for you. It will also help the doctor to identify any underlying issues that could be worsening your symptoms.